Visitors Counter
| | | |
| --- | --- | --- |
| | Today Visitor | 77 |
| | Total Visitor | 966677 |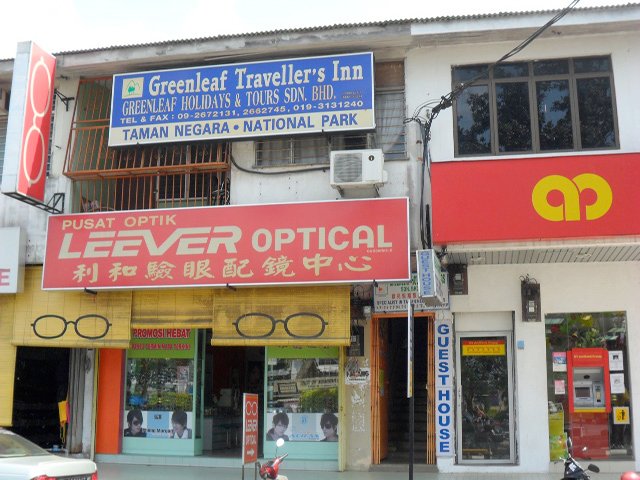 The quickest way to get to Taman Negara is via Jerantut. It is a 3 hour road journey from either Kuala Lumpur or Kuantan by East Coast highway and exit at 819 toll Temerloh. There is another 59 km before you reach Jerantut. From Jerantut, drive all the way 67 km to Kuala Tahan. You may also take the public tramnsport from Pekeliling bus terminal in Kuala Lumpur (by monorail or STAR LRT you can drop at Titiwangsa station in order to reach Pekeliling station) or Kuantan bus station to Jerantut.
Our travel agency and guest house is centrally located in town, infront of taxi station and next to Ambank. It is in walking distance of restaurants, emporium, night market, bus station, internet cafe, post office, banks and ATM.
If you are coming from Kota Bharu or singapore, it may be easier to take the train service to Jerantut. From Jerantut, take a taxi to Kuala Tembeling for a boat ride or you can also opt to drive to Kuala Tahan.
Note: The boats' departure from Kuala tembeling is fixed at 9:00 a.m. and 2:00p.m. daily.
By Bus
From Kuala Lumpur

Bus Company: --
Daily Departure: 09:00am (From Lower Lobby, Crowne Plaza Mutiara, KL to Kuala Tembeling Jetty)
Fare: RM-- per way


From Kuala Lumpur

Bus Company: N/A
Daily Departure: 09:30am, 10:45am, 12:00pm, 05:30pm (Counter 3A, Bus at Pekeliling Bus Station - Pekeliling Genting Pahang Station to Jerantut town)
Fare: RM-- per way


From Kuala Lumpur

Bus Company:
Daily Departure: 00:00,  (Counter 3A, Bus at Pekeliling Bus Station - Pekeliling Genting Pahang Station to Taman Negara or Kuala Tahan)
Fare: RM-- per way


From Ipoh, Penang, Kedah

Take bus from Komtar or Butterworth bus station which towards to Kuantan. Please stop at Temerloh. When the bus arrive at Temerloh, take a bus from old station Temerloh to Jerantut.
Bus from Temerloh to Jerantut depart every hours.

From Sungai Petani, Kedah


Bus Company: Take any Bus from Sungai Petani Bus Termina which towards to Temerloh
Daily Departure: 08:30am, 09:00am, 10:00am
Fare: RM37.00 per way


From Jerantut to Kuala Tahan (Taman Negara)

Bus Company: Bus Persiaran


Daily departure (from Jerantut):8:00a.m.,1:00 pm

Daily departure (from Kuala Tahan): 3:00p.m., 7:00 p.m.

Fare: RM 35.00

Journey: 1 hrs 30mins appriximately

ÂÂ 
By Own Vehicle
From Kuala Lumpur

From KL >> Karak Highway >> East Coast Highway >> Temerloh >> Jerantut >> Kuala Tahan
Journey: 3 hrs approximately


From Ipoh, Penang, Kedah


From PLUS Highway >> Exit Tg. MalimÂÂ  >> (20km) to Kuala Kubu Bahru >> (12km) to Batang Kali Town then turn left follow the sign board to Genting Highland >> (15km) Gohtong Jaya >> Karak Highway >> East Coast Highway >> Temerloh >> Jerantut >> Kuala Tahan

ÂÂ 
By Train
From Johor Bahru / Singapore

Train Company: KTM Malaysia
Daily Departure: 11:00am, 07:56pm (JB to Jerantut); 10:00am, 06:50pm (Singapore to Jerantut)
Fare: (depends on seating)
ÂÂ 
By Boat
From Kuala Tembeling


Any boat towards Taman Negara at Kuala Tembeling Jetty
Daily Departure:

0193131240 please call for booking
Fare: RM80.00 per way
Journey: 3 hrs 00 min approximately

 
ÂÂ